Do you want to come home sore after a night of dancing and screaming along to a collection of incredible songs? Do you want a mind blowing light show and energy so high you don't think a single room can contain it? If you answered yes to any of these questions, then you want an Awolnation concert. If you answered no, you don't know it yet, but you want an Awolnation concert. Two days after Awolnation rocked the Sound Academy in Toronto, my feet still hurt, my arms are bruised from fist pumping into the barrier at the front, and post concert depression (which is a real thing) is at an all time high. Here's what went down:
After waking up at 7:00am to write an exam, my twin sister and I boarded a bus and headed to Toronto. We treated ourselves to VIP tickets, so technically we could have left much later, but I heard that 102.1 The Edge was hosting Awolnation as a part of their Sugar beach sessions at 1:30pm. Since they hardly perform acoustic versions of their songs I wasn't about to miss it. And I'm glad that I didn't! After two and a half hours on the bus we were actually standing there at the Chorus studios. We made it just on time as only few minutes later out walked Kenny Carkeet (keys), Marc Walloch(Bass), Drew Stewart(guitar), Isaac Carpenter(Drums), and of coarse a fantastically dressed Aaron Bruno (singer and literally anything else. He's amazing).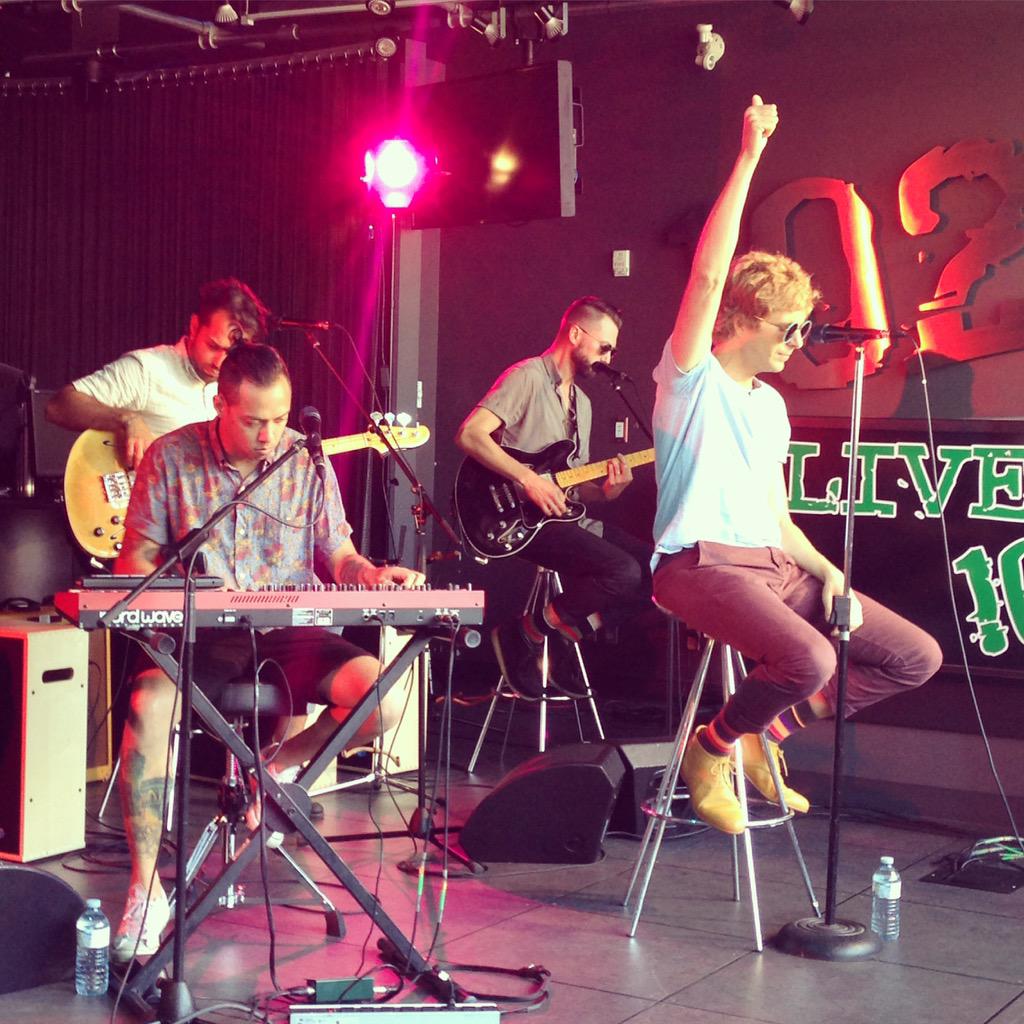 Following a few questions about opening for the Rolling Stones a couple nights before, which according to Aaron they can all agree was indescribable, they played two songs from their new album, Run.  They opened with Holy Roller, one of their quieter tracks, and I tried not to sing along. I knew they were going to be good but actually being there and hearing some of my favorite songs acoustic was amazing. Windows, an intense monster of a song, was stripped right down to its core. The highlight for me was when he sang "I can't believe this is happening" because 1. That's how I was feeling at the moment and 2. The harmonies were amazing.
When they finished, the band minus Aaron came out to pack up their gear. They were being approached by a lot of fans so we thought since we had meet and greet passes that we wouldn't bother them. Eventually we ended up going to say high to Kenny Karkeet who was super friendly and totally didn't mind taking a few minutes for photos. He even (unnecessarily) introduced himself as Kenny and shook our hand. Kenny is the best.
At this point we still had about four hours to get to the Sound Academy but we still went straight there after a quick lunch just to make sure we didn't get lost or anything. Which we did. Despite this we arrived with time to spare which we used studying for the next day's math exam which after writing I'm pretty sure I failed because I was so excited I could barely focus.
So meet and greet time!  While in line they brought us our merch: a super cool bag and a physical copy of Run, and after we got a limited addition signed poster. I was worried that we were going to be rushed through and wouldn't have time to talk to Awolnation but everything was perfect. My sister got to give Aaron some lyric art she made and he seemed genuinely impressed and grateful.
The highlight for me was that I got to ask Aaron a question that has been burning in my soul ever since I first listened to Run: Did he make it to Ryan's birthday party? If you don't know, at the end of Run a message plays of Ryan inviting him to hang out. It's basically the greatest album cliffhanger ever. In what I will accept as a sad ending, Aaron told me he was not able to attend which according to him is what makes it so perfect to have put it in the last song. Photos were taken, hugs were given, but it was destined to end as I said goodbye and thanked them for their time.
The concert started with Parade of Lights, who had a lot of energy and were a decent opening band, but I really just wanted to see Family of the Year, a band I've loved for two years. After hearing their live set comprised of only new songs I couldn't be more excited for their album to come out. The new music sounds like it will be more energetic and edgier than their folk influenced Loma Vista. The highlight though was when they played Make You Mine because finally I could sing along. They closed with their most widely known song, Hero which was featured in the award winning movie Boyhood. I was sad to see them go but got one of Sebastian's drum sticks as a souvenir!
Then came the moment everyone was waiting for. The lights went out. Fog covered the stage. Kenny came out and started playing the opening of Run on the synths. Then Aaron walks out. If I learned one thing at this concert, it's that there are two different lead singers of Awolnation: Aaron Bruno and Awol. Up until he walks on stage he is Aaron: super chill and sweet, a little awkward but genuine. Then when he's there, a crowd in front of him and his band behind, he turns into Awol. His confidence and energy demand that you give him all your attention. Usually at concerts my favorite thing to do is find whatever instrument has the coolest part and watch that. Not this time. I cannot remember one time Aaron stopped dancing and jumping and doing basically whatever he felt inclined to do. On stage he is a mesmerizingly powerful force that won't let you look away. I could barely believe that I was watching the same person I had met earlier.
Awolnation's incredible live energy makes its way to the fans as well. I remember at least three crowd surfers and I wasn't even paying attention to what was going on off stage. Highlights are nearly impossible to pick since they played all their upbeat fist pumping songs that were born to be played live. Like People Like Plastic was special because of its rapidly changing pace, going from sing song-y to intense and dark in a matter of seconds, and the anticipation at the end when waiting for him to scream "F**k your ghost!!!". I was also surprised when they played the entire Knights of Shame, a brilliant 12 minute track off of Megalithic Symphony. Kenny absolutely nails the rap part (and less notably, I nailed the rap part).  There was also a minute where Aaron left the stage to let the crowd focus on the absolutely brilliant drumming of Isaac Carpenter. I don't think I've ever been more impressed in my life.
I have never heard such a loud crowd screaming for an encore! They played three more songs: I Am, Dreamers, and predictably Sail which made the crowd go crazy. Aaron was the first to leave, taking a bow and leaving you to watch Drew Stewart shred on guitar.
This was truly an experience I will never forget: from seeing Awolnation quietly fill the Edge studios, to thanking them for their music, to watching them as a massively energetic and mind blowing live sensation, I will forever listen to their music with even more respect. If you have the opportunity you will not regret going to see an Awolnation concert.
Check out Awolnation tour dates here